The snow started at 8.30 this morning and has continued to fall, a ridiculous, exorbitant, gratuitous amount of snow for which I am both exasperated and thankful. The city is very pretty in her winter wear, but all errands must be put aside because of the difficulty of walking. Within minutes one is completely covered in snow, which sticks and makes us look like a bunch of sheepish yetis. This morning the people out quietly walking under their bright umbrellas, heads down, feet shuffling, meeting friends silently, linking arms, made me think of Lucy and the faun.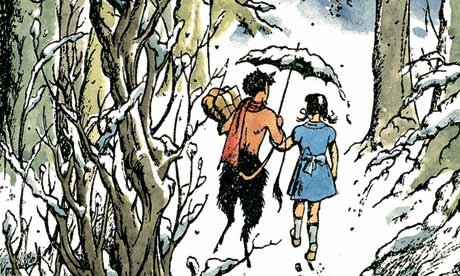 Pauline Baynes' illustration

On St. Giles
I went into Oxfam to find a copy without any luck, but I did find an inexpensive first edition of Christopher Isherwood's
A Single Man
, which has been on my mind lately.
There's a wedding happening in the college today, so I'm keeping my head low and enjoying a lock in with Roberto Bolano, watching the snow from my window.